To order custom made products, please click here. Prices vary depending on size, wood type, and designs.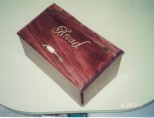 Custom made bread box with scroll sawed lettering. Made of solid poplar hardwood with red mahogany stain. Solid brass hinges and handle with ceramic middle. Sold for $50.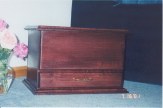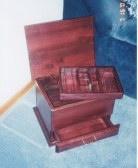 12" H x 16" W x 12" D
Solid cherry hardwood sewing box. Lift out tray that holds 20 spools of thread with three other storage compartments. Four inch storage space beneath tray and pull out drawer on bottom. Sold for $250.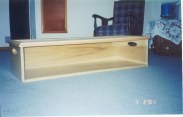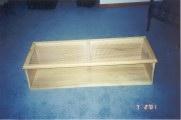 48" L x 10" H x 18" D
Tortoise box made for raising small tortoises. Solid poplar hardwood, plexiglass front that slides in from top, lift off top with framed screen, clear caulked seams.
$325.